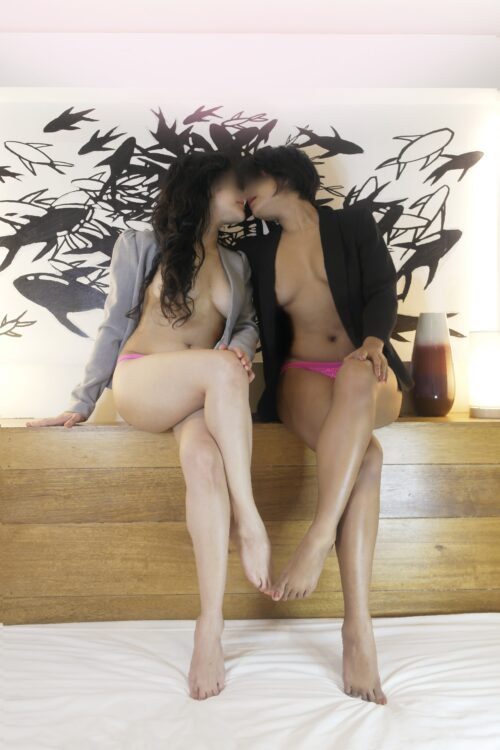 Not even the rain could dampen my spirit that Thursday. 
Lily and I have been planning a photo shoot since we decided to partner up. After some set backs due to the busy holiday season, it was finally happening. The rain was pouring hard outside when I got to the hotel. The door man rushed to help me and shield me from the torrent outside.  But it was too late. I was already drenched- my shirt was wet from the rain and my underwear was wet because of something else. 
I was the first one to check in. We rented the penthouse in a hotel in Makati for our photo shoot. I came early in the morning to drop our equipment and clothing then went to do my errands for the day. The photographer, Lily and I will meet after office hours. 
I tried my best not to think about my night too much and be present. You see, I have a crush on Lily and our photographer. Gonzalo, is actually my friend. I was excited to be in a room with two people I like. I enjoy making my friends from different circles meet. It's like making a mash-up of the best things in life. 
After my errands were done, I went back to the hotel and took a nap while waiting for the other two to arrive.
The night eventually came and I got a message from Lily. "I'm here!" she said via SMS. I jumped off the sofa and quickly styled my bed head to a somewhat decent 'do and hurried downstairs. 
We said our hellos with a tight embrace. It's always great seeing a friend after a long time. At a time like this when a pandemic forces us to stay isolated, seeing a friend after such a long time makes you want to hug them just a bit tighter and a bit longer.  Lily had a number of errands to run that day as well so we lounged in the penthouse first, ate and exchanged stories while waiting for the final member of our gang that night. 
We met Gonzalo in the hotel café soon after. Introductions were made, bread and wine was shared amongst us.  Conversations flowed as more wine was poured and eventually, we ordered another bottle to be brought back to our suite. We figured we could get started and have some glasses of vino in between our sets.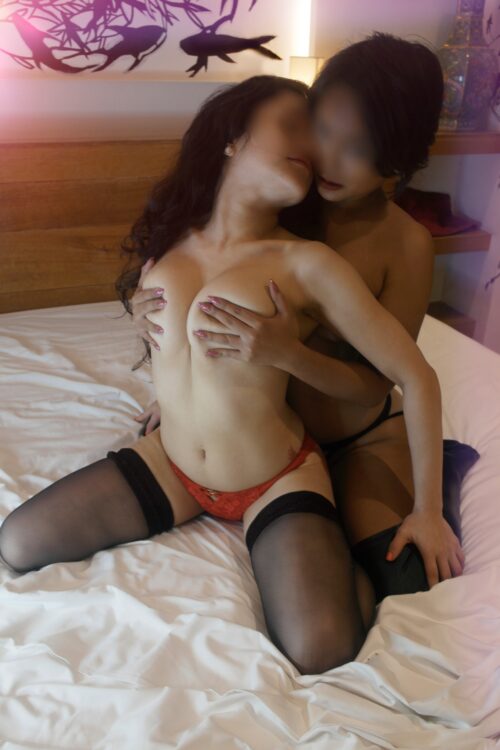 I don't recall now who started to strip first but I do remember taking my top off while Lily and I were explaining the peg for the first set. Gonzalo was setting up the lights and was testing camera settings. Us models got naked and went to bed. 
It could've been the built-up excitement or the wine we had but I could feel myself getting too giddy and nervous. Getting all the shots we needed was both a blessing and a challenge but we got through without me combusting from lust or ravaging my partner all of a sudden. I had to constantly remind myself that this too is part of my work and I must remain professional at all times. It was difficult, eventually we got through and finished. 
The photo shoot has ended and us girls both dressed up and laid down the bed to decompress. Gonzalo joined us too. It was a long day for all of us and we all needed some rest it seemed.  I watched Lily lay down on Gonzalo's chest as we shared stories. Suddenly, Lily went on top of Gonzalo and gave him a kiss.
My wine addled mind was watching the scene unfold in front of me and I had to wonder if I had too much to drink or have I passed out in bed and this was just a dream. Either way, I was more than glad it was happening. 
I just wanted to watch at first. To be honest, I wanted to be tied up and forced to watch while I have a Wi-Fi controlled vibrator on. If only I had brought my other tools and toys! There will be another opportunity for this fantasy. What I witnessed was two people I like get passionate in front of me, and it was true bliss. 
One hand snaked its way down my underwear as I watched Gonzalo plunge inside Lily. I cannot even tell you with confidence whose hand it was but at that time I took it as an invitation to come join the fun. 
Lily looked at me and said "I haven't eaten you out yet!". My dumbfounded and happy self didn't have anything other than "me too" as a reply. My mouth found its way to hers and hers found mine. We explored each other's bodies as Gonzalo took turns on both of us. Lily, Gonzalo and I were dancing a three way tango. We never rehearsed, we did not plan. Nevertheless we made a passionate and beautiful dance.
Like all performances, ours too had an end. A bubble was popped and we had to come down to reality. 
Ever the busy bee, Lily had to leave- it was way past midnight. But Gonzalo and I were there for an encore. He had given us both so much joy and as a consummate giver of pleasure, I wanted to make sure he reaches the peak of his. And reach the peak he did. We both crashed in bed at around 3AM.
We welcomed Friday morning with our bodies reminding us of last night and our lust satisfied. It was a work week, Gonzalo had to rush to his day job. Lily was probably already halfway through her work. I had to clean up the room to spare the maintenance staff the results of last night's spontaneous performance. It was a great way to start the weekend. 
With a smile on my face I thought: time to edit our photos!