Diving was something I've been daydreaming about for quite a while. I often get invited by gentlemen who love the sea and have a passion for the underwater world. I pride myself as a professional companion, but there is a limit to how far I can go in open water. I can free dive which takes me to shallow depths. Scuba, on the other hand, is something beyond free diving.
I never considered to learn scuba diving. The gear alone looks complicated and constricting. I was a free spirit who thought I only needed a mask, snorkel, fins, a full lung and my brave heart. Diving with minimal gear made me feel like a mermaid. Although free diving offered much freedom, I could only go at a maximum depth of 20 feet in 2 minutes.
I realized I cannot be good company underwater because I can only stay for no more than two minutes. This made me consider taking scuba lessons. Of course I want to see more marine life and enjoy the view for more than a few seconds too, and yes I just love being in the sea!
After doing my research, I finally chose an instructor who will guide and train me in my underwater adventure.
Preparations had to be made. I was given a PADI manual and Knowledge Review questionnaire to answer ahead of time. I tried my best to read amidst my busy schedule and the Holiday season chaos. There was much information I needed to absorb in such a short time. It was already very different from free diving, where we only needed a couple of hours of lecture and we were off to the deep pool to practice our skills. There was much to learn before you take your first dive. I realized at that moment that scuba takes more skills, focus, discipline and finesse than free diving. I felt overwhelmed but at the same time, excited. After all, I'm no longer the free spirited mermaid in her 20's. I am now older and ready for the kind of discipline scuba diving requires.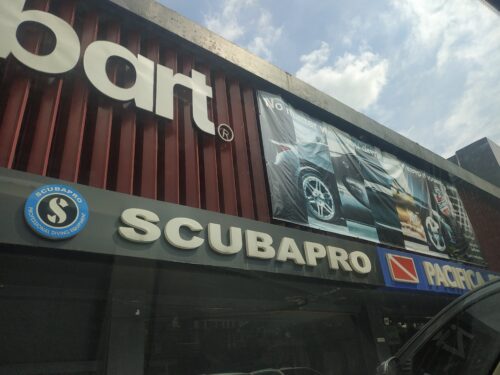 I was ready but I needed help. I told one of my lovers about my plans to start taking scuba lessons – he took the time to bring me to one of the local dive shops. I am thankful for his assistance! Not only did he made sure that I study and answer the Knowledge Reviews sent by my instructor, he also bought me my very first set of diving equipment. That same evening, I showed this lover how thankful I was! That is another story to be told on another blog. 🙂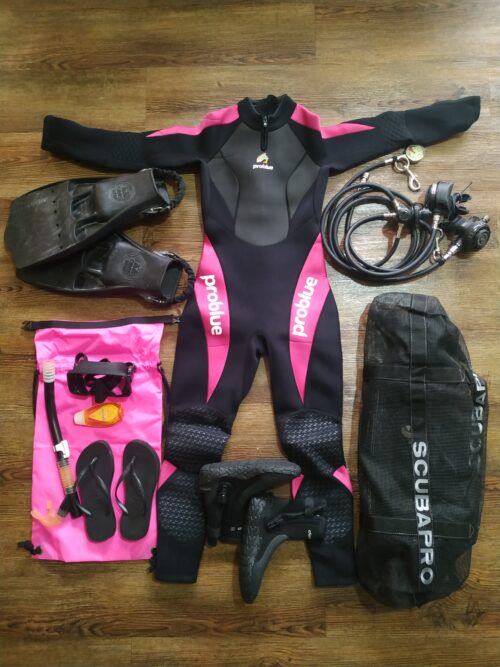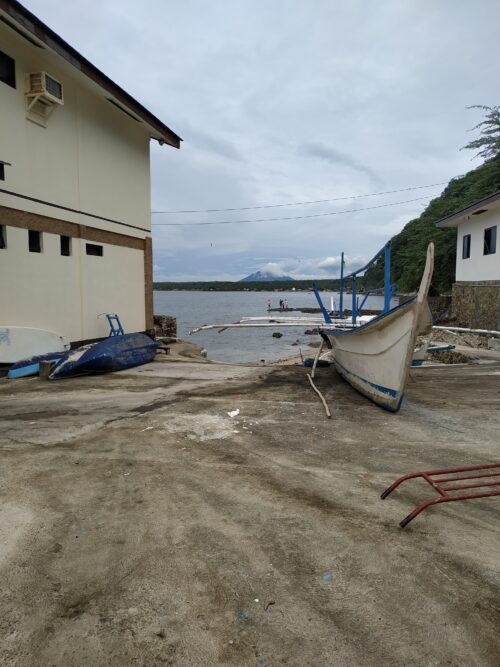 I met my instructor early Sunday morning at the resort. Introductions were made, and we began lectures. Most of the morning was spent reviewing, listening to lectures and practicing basic diving skills in the deep pool. My instructor made sure I knew my equipment, and that I know what to do in case things go awry underwater. After pool sessions and lunch, we were to jump off and go underwater.
While drying off after pool practice, walking to the restaurant for lunch my instructor asked me how I was feeling.
With a grin I said: Oh! I'm scared but really excited too.
When it comes to the sea and swimming, I've always done it by instinct. I never had to swim with technicalities in mind. I am not afraid of the open sea at all. I was more apprehensive about not being able to execute the skills required underwater. I was afraid and at the same time thrilled to see how far I can go.
After letting our lunch go down, we suited up. We did one last run through of the basic diving skills. My heart was racing at this point, but I was hyper focused. I was running the steps in my head while I waited for my dive instructor to signal our descent.
My head was going overdrive but everything became calm after my very first breath underwater. The marine life I previously could only enjoy for a few seconds is now more accessible for a longer time. I could now indulge and marvel at the sights. There was some kind of peace that covered my being at that moment. It was all worth it – days of preparation.
The instructor gave me a few minutes to adjust to being under 6 meters of water. Once he saw that I was not panicking, we started with the underwater skills practiced earlier in the day.
Half way through the dive, my instructor took me to where there was more to see. I considered the scene being shown to me a reward for all my hard work.
The dive ended after an hour. I found myself already planning when to return, for the rest of my lessons while drying my gear. I informed my instructor of my desire to continue and have scheduled my next diving trip with him. By the end of January, when I complete my certification, I will be delighted to be with scuba "lovers." Let's enjoy the deep plunge together!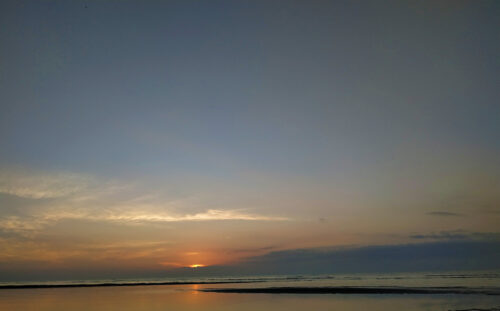 I started that day with wide eyes and an eager heart. I ended it with eyes more focused and a stronger desire to learn. Amidst the Balayan Bay sunset, on my way back to Manila, I realized that I'm no longer a carefree mermaid. I've evolved to something better.
Erin
Your luxury companion
P.S. I want a dive computer 🙂